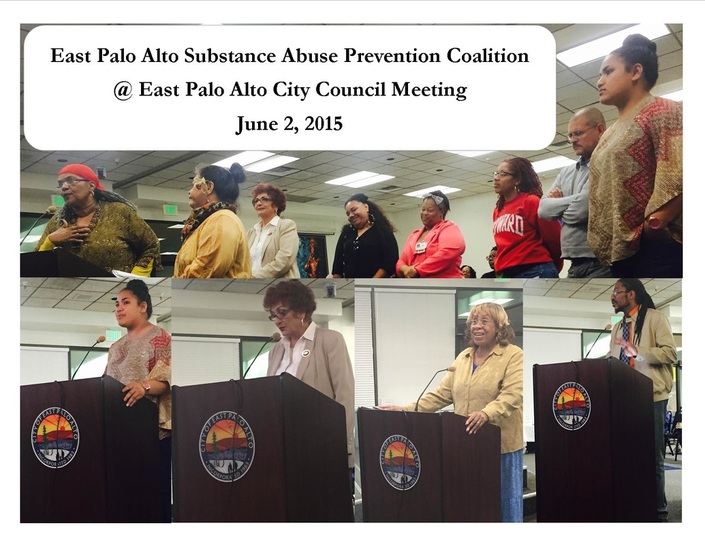 EPASAPC members deliver a compelling and successful request to East Palo Alto City Council members for a study session on underage youth access to alcohol in East Palo Alto.

The East Palo Alto Substance Abuse Prevention Coalition (EPASAPC), convened by One East Palo Alto Neighborhood Improvement Initiative, is charging forward with mission-driven efforts to bring about community-level change regarding substance abuse among East Palo Alto (EPA) youth. As one of its major environmental prevention strategies currently underway, EPASAPC is working to implement policy changes aimed at reducing contributions of retail sources within the community to underage youth access to alcohol. The coalition's environmental prevention work over the last eight years, including extensive research on and data collected about underage youth alcohol use in EPA curso sql por ebaconline.com.br, has prompted the group to intensify efforts to address this longstanding problem. More specifically, EPASAPC members are seeking to partner with East Palo Alto City Council members to establish a policy of mandatory Responsible Beverage Service Training for all new and renewing alcohol licenses as a strategy they believe will have significant impact on underage youth access to alcohol.

On June 2, 2015, EPASAPC made a short presentation to the East Palo Alto City Council about its substance abuse prevention goals and accomplishments as well as to request a study session wherein coalition members would be able to engage council members in an in-depth discussion of the problem of underage youth alcohol access in EPA and provide research-based recommendations. In doing so, the coalition also advocated for partnership with council members and local alcohol merchants to create solutions that would help improve quality of life.

The presentation was met with enthusiasm and positivity by attending council members. In addition, EPA Mayor Lisa Gauthier requested that city staff immediately begin work on scheduling the study session.